Things are not official yet, though.
Many people believe that T'Challa's successor as Black Panther will be Shuri – after plot leaks claiming so, a lot of people even agreed that this was "common knowledge". Still, with the studio remaining mum about the identity of the new Black Panther, fans have to decipher the newly-released trailer as they search for clues.
And the hunt is pretty successful.
Premiered at Marvel's SDCC panel, the trailer only provided a quick glimpse at the person wearing the Black Panther suit following Chadwick Boseman's untimely death. However, this quick sneak-peak does show a little detail that might confirm the leaks saying that it is Shuri who inherits the mantle.
On the right hand of the new Black Panther there is a panther-like accessory that hints that Shuri was definitely the one to design the suit, if not the one to wear it.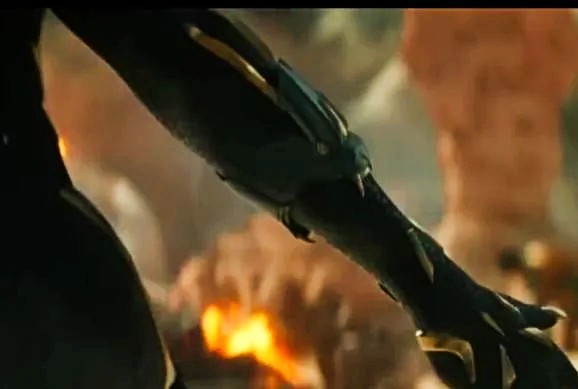 In previous movies, Shuri used similar panther-stylized features in the suits and armor she created. It would be logical to assume she designed her own suit, but fans believe that it also might indicate that Shuri is technically the new Iron Man for the Wakanda-centered storyline.
"She's gonna give everyone a suit now like Iron Man did. They're all gonna tag team a threat." – /diqholebrownsimpson
In fact, many people still hope that Shuri will only take up the role of tech designer instead of actually inheriting the mantle. For them, it would make more sense if a different character was Black Panther: Nakia, or even M'Baku.
"My money is on Lupita Nyong'o/"Nakia". Makes more sense. Shuri works much better as a support character for the MCU, creating the new tech for everyone like Tony did." – /sheepsleepdeep
Some fans pointed out that Marvel often changed its trailers in order to mess up with viewers and trigger speculations. So the shot from 'Wakanda Forever' might as well end up being not accurate, they claim.
Still, the majority of people believe that the new Black Panther is definitely a woman, judging by the shape of the superhero shown in the trailer. Earlier leaks suggested it would be Shuri, despite multiple calls from fans to recast T'Challa after Chadwick Boseman's death in 2020.
'Wakanda Forever' Leak Reveals Who Will Be the Next Black Panther