BTS Min Yoongi's Very Personal Mixtapes are on Everyone's Mind Again, And Here is the Reason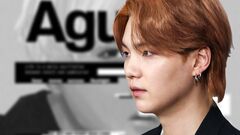 It's been 6 years since BTS' Suga has released 'Agust D'.
One could not just simply forget one of the most skillful rappers in K-pop and his mighty 'tongue technology' that allows him to spit sharp bars with insane speed and flow. It would seem that Yoongi (or should we say, Agust D?) can appear much more sincere and brutally honest in his solo releases. The lyrics to the title track of his first solo album, filled with disses, definitely attend to that.
Beside shocking everyone with the high quality of his rapping and intensity of messages in the songs, Yoongi has also impressed listeners all around the world by revealing a surprising vulnerability in his first solo release. In 2016 FUSE has chosen 'Agust D' as one of the best mixtapes of the year, it was praised for touching on such topics as depression and anxiety.
All Yoong's songs in the album show the ugly (or maybe, there is a beauty in that) side of being human. The lyrics portray a variety of emotions from grief and hurt to love and hope, and these are the topics anyone can easily relate with. The artist has thoroughly described himself and his dreams in 10 tracks, including intro and skits to support his desired story. He has bared his soul and heart for anyone to listen, feel, understand and relate.
One of the b-side tracks that people can't forget up to these days is 'The Last'. In it, Agust D meets with his inner demons face to face. It's a narrative rap expressed in a raspy raw voice, which by the end of the song breaks into screaming, revealing the artist's inner agony and hurtful memories, his darkest moments in life that he managed to overcome.
In 'The Last' Yoongi has shared how he struggled with mental health, which is a very sensitive and usually avoided topic in the Korean music industry. Fans admire Yoongi for his courage and some even admit that this song has changed their life.
"Agust D struggled mentally, felt envious, was angry, had no money, & nearly gave up on his dreams. Music was his escape but even then there were times where music couldn't be there for him. Yoongi was incredibly brave for telling the whole world that he's also human." – @agustdidas
'Agust D' recently reached 800 million streams on Spotify, showing that Yoongi solidified his position as one of the most successful Korean solo artists. His second mixtape 'D-2' is the most streamed K-pop solo album on the platform with more than 500 million listenings.