'Captain America' References in 'The Boys' Season 3 Trailer Blow Fans' Minds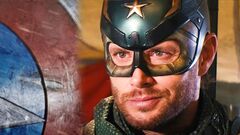 Jensen Ackles' Soldier Boy is very much a parody of Captain America… but not just the one you thought of right now.
Amazon released a new trailer for 'The Boys ' season 3, and one particular character immediately got people talking – specifically because of a handful of references to 'Captain America'.
Jensen Ackles ' Soldier Boy steals the spotlight in the trailer by being an explosive combination of all things Captain America – and not necessarily every single one of them is a good thing.
His suit looks a lot like Steve Rogers' 'nomad' version, especially with Ackles' beard and long hair. The angular shield that Soldier Boy is using also looks very similar to the ones that Steve used after he abandoned Stark's vibranium shield in 'Civil War'.
However, this is where the similarities between Chris Evans ' righteous Cap and Ackles' rebellious Soldier Boy end. But Rogers was not the only Captain America, was he?
In 'The Falcon and the Winter Soldier', John Walker, who was designated to become Captain America after The Falcon respectfully rejected the role, ended up crossing the line and brutally murdering a thug with Cap's iconic shield. The scene was one of the most shocking moments of the show – and perhaps in the entire MCU.
Soldier Boy also seems to enjoy some powers that are not traditionally associated with Captain America, even though he shows them off after emerging from a capsule just like Steve Rogers once did. Looks like Ackles' character can also release energy blasts – a detail that really surprised some fans.
We'll get to see more of Ackles' Soldier Boy and his own twisted homage to Captain America when season 3 hits our screens on June 3.