From 'The Batman 2' official announcement to the very first look at 'Barbie' with Margot Robbie and pretty saucy 'Don't Worry Darling', Warner Bros. managed to surprise us yet again.
Here's the list of every movie – DCEU and beyond – showcased by the studio at CinemaCon 2022.
As Baz Luhrmann said, the audience can't live by Batman alone – so the director will once again try his hand at the very intriguing concept of "biopic that is not really a biopic." Talking at Warner Bros. panel at CinemaCon 2022, Luhrmann stated that 'Elvis' is really about societal changes in America, with Elvis being some sort of a "human reaction" to these changes. The director also hopes to explore the conflict between truly "artistic" direction and the "sell". Some new footage was shown, leaving the lucky first viewers very excited with the film's raw, cool and sexual energy.
Wonka
As Timothée Chalamet fans knew all along, the young actor got a variety of talents, and in the new footage, presented at CinemaCon 2022, 'Wonka' star shows them off, singing and charming the audience. It's a shame we'll have to wait quite a bit for 'Wonka' finally arriving in theaters: the film's premiere is slated for December 2023.
Salem's Lot
James Wan these days is specializing not only on superheroes, but also on scaring people, and 'Salem's Lot', Wan-produced Steven King adaptation, is going to be yet another scary-good project to blow our collective brains out. With the new trailer shown at CinemaCon 2022, 'Salem's Lot' is ready to debut in theatres this September, and fans of horror genre seemingly can't wait.

The Batman 2
The event that DCEU fans were probably looking forward to the most really did happen at CinemaCon 2022 despite some movie insiders having claimed that Warner Bros. won't be rushing into 'The Batman' sequel production. Fans are understandably excited, but also – ready to demand a lot from Matt Reeves and his creative team.
Here's What Fans Are Expecting to See in 'The Batman 2'
No release date for the sequel was announced.
Barbie
Stuck in development hell for what feels like years, 'Barbie' – having recast Amy Schumer with Margot Robbie at some point – finally got its premiere date (July 21, 2023). Not much is known about the movie's plot at the moment, but at least we can check out Margot Robbie's signature Barbie look thanks to the first pic made available by the studio. Fans, predictably, are not that impressed.
Here's Why First Look at Margot Robbie as Barbie Got People Talking
Don't Worry Darling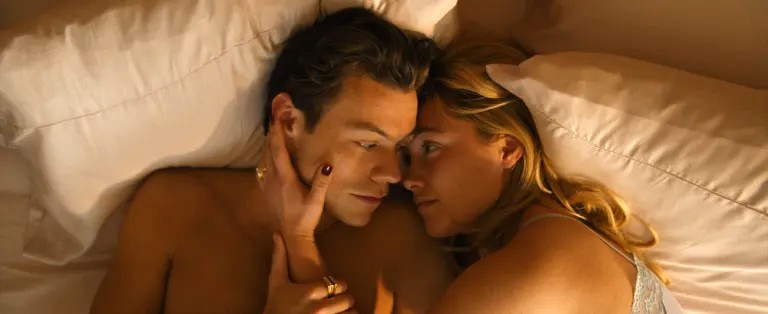 Actress-turned-director Olivia Wilde gathered pretty impressive cast for her latest film. 'Don't Worry Darling' starring Harry Styles, Florence Pugh, Chris Pine, Gemma Chan got a new trailer and a summary at CinemaCon, and things look just as intriguing as we were hoping they would. Wilde herself described the film as inspired by Inception, The Matrix and The Truman Show.
Wilde's latest directorial effort will premiere in selected theaters September 23, 2022.
Shazam! Fury of the Gods
Warner Bros. showed exclusive footage from the sequel, effectively blowing our collective minds in the process. Shazam quoting 'Fast and Fuirous'? – Check! A date with Gal Gadot's Wonder Woman in Paris? – Check! Merlin and a giant dragon? – Check, and don't tell us you've expected that. Looks like the long-awaited sequel is going to be bigger, better and even more self-aware compared to the first installment.
'Shazam! Fury of the Gods': Here's What We've Seen at CinemaCon 2022
With all the controversy surrounding Ezra Miller, arrested in Hawaii twice in the last couple of months, some fans were hoping that Warner Bros. will address the actor's future in the DCEU at least in some way. Well, no luck here: the studio execs stay mum on the whole issue, but at least we got some very intriguing new footage highlighting Michael Keaton's Batman in 'The Flash', who apparently brings back his old 1989 'Batman' catchphrase: "You want to get nuts? Let's get nuts."
Keaton Returns As Batman? 'The Flash' CinemaCon Footage Explained
One of the most anticipated premieres of this year, 'Black Adam' wowed CinemaCon attendees with a new trailer, cementing "dark, brutal and badass" take on Dwayne Johnson's character. 'Black Adam' will arrive in theatres on October 21, 2022.
'Black Adam' CinemaCon Footage Breakdown
'Aquaman and the Lost Kingdom' also got new footage shown at CinemaCon 2022, with Black Manta seemingly taking the center stage: the footage shows Yahya Abdul-Matin II' villain on board of a brand-new ship, trying to bring down Aquaman for good. Looks like the 'Aquaman' sequel will spend some more time showing more of Black Manta's backstory and actually developing his personality this time.
Black Manta Strikes Again: 'Aquaman 2' CinemaCon Footage Explained