Fan Who Met EXO's Oh Sehun on a Street Shared a Sweet Story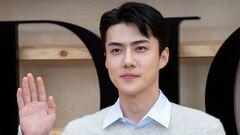 Seriously, these K-pop idols just have to be so nice and perfect all the time, haven't they?
Most of the times you meet idols only at their concerts or up close at fan-meetings, but turns out, the most precious memories for fans come from bumping into their favourite artists on the street in absolutely random moments of their lives.
EXO- Ls (EXO's fans) can't help but fawn over one of the stories recently uncovered on Twitter. A few months ago, one of EXO's Korean fans (username 살쿠공주) was taking a stroll around their neighborhood when they suddenly met Oh Sehun. The fan couldn't miss the lucky opportunity and so they came up to the idol, confessing that they were a fan. However, as EXO-L was just taking a casual walk in the area, they didn't even have anything that the artist could sign.
Despite that, Oh Sehun gave his fan as much attention as possible, he even waited for them to go into the nearest convenience store and buy some paper and a pen. The reaction of the fandom to that kind gesture was explosive, with fans commenting on how humble the famous K-pop idol actually is. They suggest that an artist surely needs to have a pure heart and a lot of love for their fans to even patiently wait outside just to give EXO-Ls an autograph. The fan who posted the story called him an "angel".
"noooo like what famous ppl willing to wait for fans to buy pen so they can give them autographs? sehunnie my love, it's truly amazing how humble and kind you are still despite how famous you've gotten." – @heresmyjvn
Sehun indulged his fan even more and also had a small talk with them, showing his phone when EXO-L asked about its color because they wanted to buy the same cellphone as him. In the end, the fan sincerely thanked him and they parted ways.
"Sehun only looks cold outside but i feel like he's really accommodating to fans. He's nice and humble. So pure." – @baek_forehead
We can be sure that now this fan won't ever forget this heartwarming meeting on a random day.