Gandalf Star Wants Actors Who Rejected the Role Before Him to Feel 'Silly'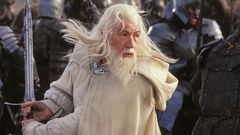 Sir Ian McKellen delivered an absolutely iconic portrayal of Gandalf in Lord of the Rings, but he wasn't the first pick for the role. Now, he hopes those who refused it feel "silly."
Live-action adaptations of book series, let alone popular book series, are always a massive risk and a struggle. No matter how many attempts have been made, no one's ever done an immaculately perfect adaptation, but some came close.
In the case of Lord of the Rings movies, fans are naturally divided: one group calls them the greatest adaptation ever, and others argue that quite a lot of content was cut.
Despite these discussions, Peter Jackson's LotR films are undeniably way better live-adaptation than most other film franchises that tackled big-name book series.
Among all things great about Lord of the Rings movies, their phenomenal cast stands out — and some actors portrayed their characters so well they became iconic.
Hobbits, dwarves, and elves aside, Sir Ian McKellen 's Gandalf was the most outstanding character of them all, and the actor was quite proud of his work.
However, despite his brilliant performance, McKellen was famously not the first pick to play Gandalf.
When asked about whether it was insulting for him, the actor waved such suggestions off — and laughed that he just hoped his predecessors felt "silly" for declining the offer to play one of the most central characters of Lord of the Rings.
"I don't think you're ever the first choice… I certainly wasn't the first choice for Gandalf. Tony Hopkins turned it down. Sean Connery certainly did. They're all coming out of the woodwork now, and I hope they feel silly," Sir Ian McKellen told Variety.
Well, considering the trilogy's overwhelming success, this is bound to be one of those "I regret not taking that gig so much" cases for the actors who decided against playing Gandalf. But for us, the viewers, everything turned out perfectly: it's near-impossible to imagine anyone but Sir Ian McKellen playing the legendary wizard.
Source: Variety