Neil Gaiman Responds Strongly To Hypocrisy Accusations Made By 'Sandman' Fans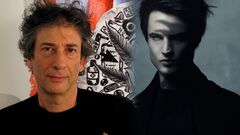 With the release of images from Netflix's upcoming series adaptation of 'The Sandman', some fans are beginning to wonder why actress Gwendoline Christie was chosen to play Lucifer, who is shown as a man in Gaiman's original comics.
The hotly anticipated fantasy series will be adapted for the small screen by David S. Goyer and Neil Gaiman, with the latter finally agreeing to bring his '90s bestselling comic book series to live action. Gaiman has always been quite vocal about his disapproval of screen adaptations that alter the source material, so casting Christie in the male role has caused some controversy among the writer's fans, with some going so far as to accuse him of hypocrisy and taking money from Netflix to "forget his own words."
Gaiman responded to this angry fan on Twitter, ironically trying to figure out what he had actually changed about the Lucifer. Of course, it was a pretty bad idea to confront the writer who created the character with accusations that he doesn't understand how to bring him to life on screen.
Gaiman responded to the fans' claims in his usual unapologetic manner, and the fans stand firmly behind him, praising him for his bold artistic choices and defending them.