'Ted Lasso' Vibes: Here's the Real Story Behind Olivia Wilde Being Served at CinemaCon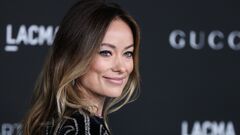 Code word 'Oklahoma', huh?
When presenting her new movie 'Don't Worry Darling' at CinemaCon, Olivia Wilde was handed a big yellow envelope that read "personal and confidential". Now, not everyone receives something quite like that during their movie presentation, so naturally, the Internet went insane, curious about the contents of the envelope.
Harry Styles ' left big toe, the real results from the X-factor and many other ironic guesses from the witty users are all wrong. Those were... the divorce papers from Wilde's partner, Jason Sudeikis.
Now that's real ironic, given how Sudeikis' character Ted Lasso in the eponymous show struggled with the very same papers from his wife Michelle, whom he did not want to divorce. Lasso would drag the process of signing the papers as long as he could, but Sudeikis in real life seems to be in a real hurry.
The actor, however, was quick to state that he had no idea Olivia would be handed the papers right in the middle of her presentation.
"Papers were drawn up to establish jurisdiction relating to the children of Ms. Wilde and Mr. Sudeikis," a source close to the actor told Variety. "Mr. Sudeikis had no prior knowledge of the time or place that the envelope would have been delivered as this would solely be up to the process service company involved and he would never condone her being served in such an inappropriate manner."
Or maybe Olivia was just being too sneaky and avoided receiving the papers in less embarrassing circumstances.
Sometimes it's just nice to not be a public persona, isn't it?