Warner Bros Has a Plan For DCEU – And Yes, It Follows Marvel 's Playbook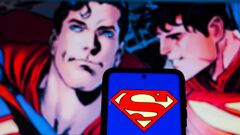 It is painful to be a DC fan these days, but maybe there is a plan to get things right this time.
Warner Bros. Discovery CEO David Zaslav has unveiled his studio's plan for the DC universe – and it's painfully similar to how Marvel does things… once again.
"We've restructured the business where we are going to focus, where there is going to be a team with a ten-year plan focusing just on DC...It's very similar to the structure...at Disney, " Zaslav said, acknowledging the similarity himself.
Under the plan, the studio is going to "focus on quality", Zaslav pointed out. In might be a jab towards the recently axed 'Batgirl', which a lot of people believed was simply too bad to release on any platform – even though there was no official confirmation of these theories.
"We are not going to release any film before it's ready. … DC is something we can make better," the CEO underlined.
Zaslav believes the studio will be able to build "a much more sustainable business" by following Marvel's playbook and simply forging a 10-year plan. His remarks come on the heels of a bombshell announcement of the 'Batgirl' cancellation – a decision that drew mixed reactions from fans and critics. While many people felt genuinely sorry for the cancelled movie, others argued that Zaslav is showing "true leadership" by going for tough moves.
However, Marvel's ways have not always (if ever) proved to be right for DC. Besides, times have been hard for DC recently: one of its flagship upcoming blockbusters, 'The Flash ', is embroiled in a controversy because of its star Ezra Miller being accused of harassment and kidnapping of a minor. Another movie, 'Aquaman and the Lost Kingdom', faces similar hardships because of the involvement of Amber Heard – the actress who portrayed Mera but has recently been involved in a domestic abuse legal battle with her ex-husband Johnny Depp.
Time will tell just how good the decision to follow Marvel's path will play out for Warner Bros. and the DC characters. Recently, rumors emerged suggesting that some of the upcoming movies, particularly 'Shazam! Fury of the Gods' and 'Aquaman 2 ' might be delayed. Zaslav never commented on that, but noted that the studio thinks they are "terrific" and "we can make them even better".