Yes, Ms. Marvel's Powers Were Changed, But Now Fans Are Okay With it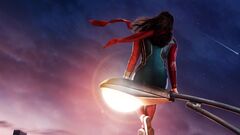 Change of heart, everyone.
'Ms. Marvel' has been preemptively criticized after the studio decided to alter her powers from what was originally described in the comic books. In the series, she wields polymorphic powers, with her hands glowing blue every time she uses her abilities; besides, she is capable of forming different shapes from the light that her limbs emanate. For instance, she can make shields or large fists.
Moreover, her powers are sourced from the family bundles she has to wear to use them, making it possible that Kamala would be powerless without them.
Initially, it infuriated the fans of Ms. Marvel, even though the studio assured the changes were made so that Kamala could fit the MCU lore better. However, with the premiere of the first episode, Marvel's decision to make tweaks appear understandable.
"Is it weird that of all the characters to change powers, it's her? Sure. But it's still Kamala Khan, a Muslim American teenager, carving her own path as a hero," – @DJ__Paint.
The first episode turned out to be so good that fans decided to be more accepting of the changes made by the studio.
"I understand why some would be super attached to certain versions of the story. I was like that for Mandarin but they did Wenwu and I loved that version. It's all about being open minded," – @kabukibutterfly.
Others suggested that the altered version of her powers seems to be more suitable for the conflict Kamala might have to face alongside Carol Denvers and Monica Rambeau (should they appear like fans expect them to).
After all, the show has to be focused on the character's journey and personality, not on how exactly she shows herself as a superhero, fans argue.
"Kamala's powers aren't nearly as important as her personality, faith, and culture. So long as the show gets those right, I'm happy," – Herostratus356.
We will definitely get to see more of that on Disney Plus, with new episodes of 'Ms. Marvel' arriving every Wednesday.