Fans Cheered When EPIK HIGH's Tablo Called Out KAMP Festival's Poor Organization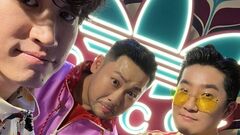 When the whole crowd spontaneously chants 'bravo', that's when you know you're doing something right.
Tablo was always one of the bravest artists in the Korean music industry, honestly speaking out about many unfair situations he had witnessed in his life. It's no surprise that he also had something to say about the KAMP festival in Los Angeles, where Epik High was invited to perform.
One of the biggest problems with this festival was the fact that Epik High became one of the few Korean artists that managed to get to the stage at all, along with iKON, Super Junior, and several others. Many artists, such as EXO 's Kai, GOT7 's BamBam, Jeon Somi, etc., had to announce their absence at the festival and apologize to their fans.
KAMP organizers explained the situation, saying the visas for the above-mentioned artists were still being processed, and this is the reason why they could not come anymore. However, fans were enraged, finding out about this issue only a day before the festival.
Making up for the unexpected problem and facing many refunds, KAMP hosts announced the confirmed artists would be given longer sets, with Momoland and T1419 performing on both days instead of only Sunday as originally planned.
However, as some fans overheard at the festival, there weren't as many visa problems as wrong applications or payment problems. Rumors said organizers most likely couldn't pay the huge fee beforehand for every artist and that's why the deadlines weren't met, even when Korean artists diligently prepared and sent all needed papers. ELFs (Super Junior's fans) shared that their group actually had to pay for their flight tickets and most likely urgent process of visas themselves because they wanted to meet the fans so much.
The K-pop idols who managed to arrive in Los Angeles performed on stage with their best efforts, as well as their fans who encouraged everyone not to refund the tickets and enjoy the show anyway. Despite every artist's determined intentions to give people weekends they will be able to remember later, the crowd couldn't help but feel sad witnessing some groups nervous when they saw a huge venue being half-empty because of canceled tickets.
Epik High hyped up the crowd despite the ridiculous situation as much as possible on the second day of KAMP. Their leader and rapper Tablo spoke out about the organization at the festival. Everyone who attended this event cheered in joyful glee when the artist addressed KAMP's poor organization on the stage in a very elegant but undeniably shady manner.
"Everything is going to sh**. Where you feel like all the plans you made, all the hopes you had. No matter how well organized and prepared in advance, it doesn't matter because it's not in your control. There are times in your life when you don't always get what you want, and it breaks your heart. I'm sure none of you know what I'm talking about. I'm sure none of you experienced even a little bit of that this weekend. (The crowd starts chanting 'bravo') I'm just saying this. Because we personally have experienced crazy things in our life. And all those moments are a reminder that despite it all, we are still here" – Tablo
In the middle of his speech, the attendees even started chanting 'bravo' right on the spot, while Tablo tried his best to hold in laughter. The mood of the crowd was instantly lifted.
The rapper's words even made his teammates collapse from laughter. Fans appreciated how Tablo also sent his regards to other artists, acknowledging everyone who worked hard to prepare for this weekend, no matter all the issues.
"Shout out to all the artists who came out this weekend, despite all the difficulties they worked very hard to put on a good show… Also shoutout to everyone that wanted to be here, but couldn't make it. I know for a fact that every artist that wanted to be here tonight, they prepared so much, they really wanted to be here, and things just didn't go according to plan." – Tablo
The visitors of the KAMP festival admitted it felt very satisfying to hear such a shady speech from one of the artists who managed to come and entertain the crowd no matter the obstacles and organizers' mistakes. A strong reaction could be felt from the crowd's cheering as well.
"Tablo talking about the mess that is @kampfestivals on stage. I knew he would keep to real." – @peaches_kai
The artist himself jokingly responded to the fans' praising of his speech by simply dropping a meaningful meme on his Twitter account.
Meanwhile, besides the well-needed call-out, Epik High threw a fantastic party for everyone to wash away the bitter taste. The KAMP's festival visitors sincerely thanked the group and all the other artists for doing their best to fulfill the absence of those idols who couldn't come, and make everyone forget the frustration and disappointment.